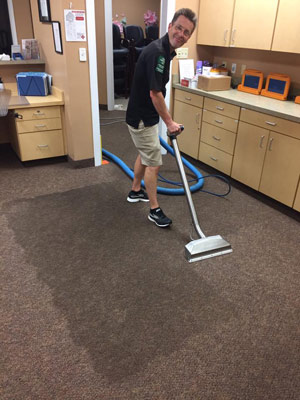 If you're looking for the best Jacksonville, NC, carpet cleaners, don't waste any more time because you've already found them - Clean Force One! 
At Clean Force One, we know how to take care of your carpet. Whatever type of carpet you have, we know exactly how to clean it without leaving any sticky detergent stains. The equipment we use is 100% safe, green, and eco-friendly. The detergents we use are the best on the market and won't leave the odor of chemicals in your Jacksonville, NC, home. 
When you hire our carpet cleaning service, you won't get just a clean carpet. You'll also get the best customer service you've had in a long time. All our technicians are friendly and professional, and their priority is gaining another satisfied customer. What's more, all our staff members are highly-trained, certified, and up-to-date with every novelty in the carpet cleaning industry. Contact us today!
Our Cleaning Process
Step 1: Pre-Inspection – Our Technician will do a walk through inspection with you to identify soiling conditions, carpet construction, and potential permanent stains.
Step 2: Pre-Vacuum – Your carpet is pre-vacuumed with a commercial vacuum to remove bonded, insoluble dry soil.
(If needed) Furniture Moving – Sofas, chairs and tables will be carefully moved. Larger pieces, such as beds and dressers are left in place under our regular pricing structure. Furniture will be protected with disposable blocks and tabs.
Step 3: Pre-Spot – Certain spots are pre-treated for maximum removal.
Step 4: Pre-Spray – Traffic areas are pre-treated with a biodegradable Traffic Lane Treatment.
Step 5: Pre-Groom – Your carpet will be pre-groomed with a carpet groomer or rotary cleaning machine (depending on soil level) to further loosen traffic area soil.
Step 6: Extract and Rinse – Once the soil has been loosened, our state-of-the-art truck-mounted hot water extraction cleaning process will thoroughly flush the carpet pile. Pressure and heat are regulated to prevent the carpet from being over-wet.
Step 6a: Neutralize – The pH is balanced on every carpet and fabric cleaned. This is one of the most important steps according to the manufacturers of carpet. It is accomplished during the extract & rinse process or a post spray will be applied.
Step 7: Post Spot Treatment – If any spots are not removed during cleaning process, specialty spotting techniques are employed. Note: Potential permanent stains, as identified by technician may not be removed.
Step 8: Post Grooming – The Carpet pile is set in one direction to aid the drying process.
Step 9: Speed Dry – High velocity air movers are placed on the carpet to lessen the drying time.
Step 10: Post Inspection – Our technician will walk through your home with you to point out the cleaning results and make sure that you are completely thrilled with the job.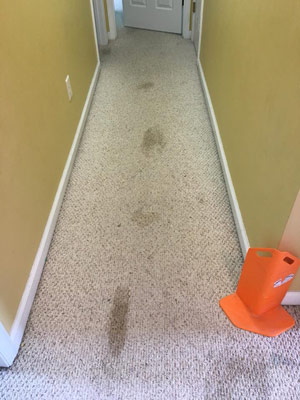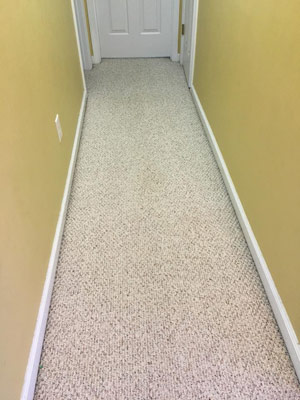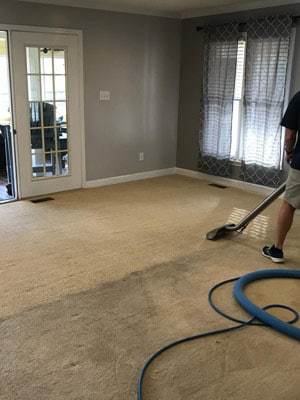 By hiring our services, you know that your home is in good hands. While working in your Jacksonville, NC, home, we'll always make sure to leave it just like we found it. That means that our professional carpet cleaners will use corner guards and other protective equipment to prevent your walls and woodwork from getting scratched in the cleaning process. 
We'll also respect your privacy and keep it professional while working. This means that not one of your technicians will enter a room in your home without your explicit consent. What's more, our technicians will go through the whole cleaning process so that you exactly know what we're doing. 
By hiring us, you don't need to worry about hidden costs. We offer a 100% satisfaction guarantee on every job we do. With us, you can expect nothing less than the best customer and cleaning service in town. Contact us now for a free estimate and experience professional carpet cleaning.